Attend the Best Media's 2nd Annual SickKids Toy Drive on Thursday, November 29th, 2018 from 12-9 PM at 701 Evans Avenue, Suite 100. The Best Media will match all donations 100%, whether toys and monetary. This event is free to attend. Refreshments and entertainment provided.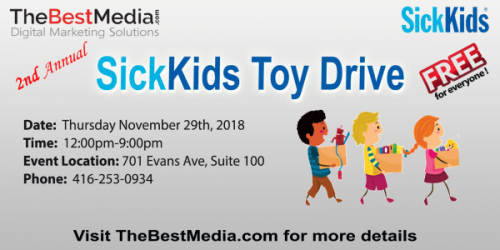 Toronto, Canada - November 9, 2018 /PressCable/ —
What: 2nd Annual SickKids Toy Drive
Who: The Best Media and the SickKids Foundation
When: Thursday, November 29th, 2018 12 PM-9 PM
Where: 701 Evans Avenue, Suite 100, Toronto, ON M9C 1A3
Why: Donate to SickKids Foundation – The Best Media will 100% match each and every contribution – and have a great time with like-minded business professionals.
——————————————————————————————————-
Sometimes, 100% simply isn't enough.
The Best Media – a Toronto digital marketing agency – will host its 2nd Annual SickKids Charity Toy Drive on Thursday, November 29th from 12 PM-9 PM at 701 Evans Avenue, Suite 100 Toronto, Ontario, in support of SickKids Hospital.
The event looks to bring the community and local business leaders together for a toy drive, with The Best Media matching all donations, whether toys or monetary gifts, one-for-one.
The Best Media's CEO, David Marcantonio, says he's always admired SickKids Foundation and the work they do to help meet the needs of sick children and their families. Marcantonio says he's thrilled to be able to give to an organization that has done so much good over the years.
Last year's Toy Drive at The Best Media was a resounding success, with over 100 attendees donating to the cause. This year, the Best Media is looking to expand the event to epic proportions. The higher the attendance, the more donations can make their way to a child in need of a pick-me-up this holiday season.
Complimentary refreshments, entertainment, and a good time will be provided on-site. Attendees who RSVP'ed will have a chance to participate in a $500 Amazon Gift Card Giveaway and win other prizes. Come take a photo with our giant, cuddly teddy bear – and tag @thebestmedia when you post on your social media to make him yours.
Those who RSVP and attend the event are eligible for a special services discount. Visit our Event Page for more details.
Meet local business professionals and entrepreneurs like yourself in a festive, fun environment conducive to meeting new friends and expanding your contact base – all the while donating to a great cause.
Matching gifts will be purchased and donated, along with all contributions from the event, on Monday, December 3rd at 12 PM at SickKids Hospital.
Please visit https://thebestmedia.com/event/2nd-annual-sickkids-toy-drive/ to RSVP.
About The Best Media: Established in 2002, The Best Media provides digital marketing solutions for businesses of all sizes, helping them to truly establish themselves in the digital realm and increase revenue. Addressing our customers' issues through digital & Internet marketing strategies is our specialty. The expertise of our staff lies in building tailor-made solutions for your business to develop and expand.
About SickKids: SickKids is a place of healing and hope that thrives and depends on the generosity of people like you, our community supporters.
At SickKids, we try our best to help patients and families feel as welcome and comfortable as they would at home. Donations of brand-new toys, electronics, crafts, books, and games help us bring joy and comfort to children throughout their hospital stay or appointment. Donations may be used in our playrooms, as rewards after completing a test or undergoing a scary procedure, and/or as gifts for a patient's birthday or other special milestone.
For the health and safety of our patients, we have to be very careful in what we accept as donations. Before making your donation, please have a look at our Donation Guidelines to learn about what we can and cannot accept.
Contact Info:
Name: David Marcantonio
Email: Send Email
Organization: TheBestMedia.com
Address: 701 Evans Ave suite 100, Toronto, Ontario M9C 1A3, Canada
Phone: +1-416-253-0934
For more information, please visit https://www.thebestmedia.com
Source: PressCable
Release ID: 440372